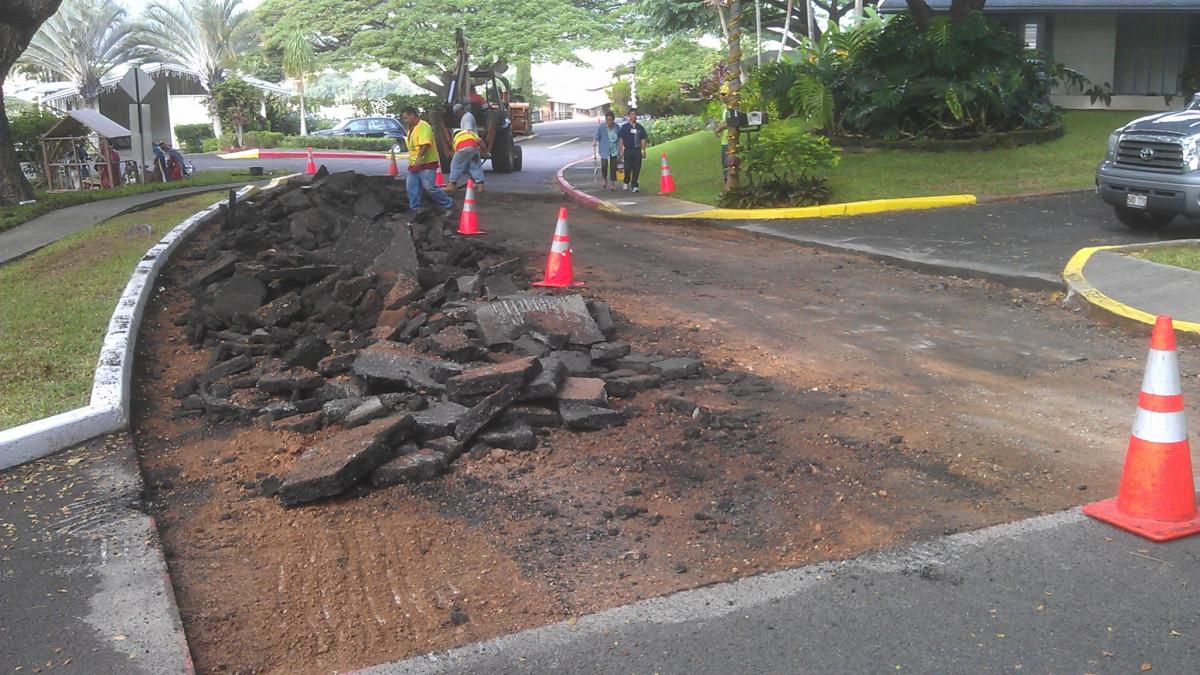 Repaving your parking lot is usually a large expense, but if you take proper action, you can actually delay the need to repave your asphalt. To do so, you must be proactive and take preventative action and maintain your asphalt while it's still in good condition.
Oahu and its neighbor islands see sun year round, and the constant exposure to UV rays oxidizes your asphalt. Once your asphalt is oxidized, that's when other issues start to arise.
To delay repaving costs, you need to regularly evaluate your asphalt, and then take corrective action as soon as possible.
Evaluate / inspect your asphalt regularly
We recommend having someone walk your parking lot once a week to evaluate its condition. Here's what to keep an eye out for:
asphalt discoloration: new asphalt is black while oxidized asphalt is gray and/or brown. Oxidized asphalt is a precursor to cracks forming.

raveling: loose rock and sand sit atop your asphalt. This is a sign that your binder is degrading and cannot hold together the rock, sand, and gravel that makes up your asphalt.

cracks in your asphalt: cracks will allow water to enter your base course, and water damage results in costly repairs.

oil stains: oil eats away at your asphalt and weakens its capacity to carry vehicle loads, which can lead to depressions in your pavement.

potholes: like cracks, potholes will allow water into your base. It's also a safety hazard to foot traffic and annoying for vehicular traffic.
(If you would like, an estimator from GP Maintenance Solutions will visit your site for free to help you inspect the condition of your asphalt. Schedule a site visit here.)
Address issues as soon as possible
When you notice one of the signs of asphalt degradation above, it's important you take action as soon as possible. Each issue leads to the next, and if you don't stop the problem from the start, it'll only get worse (and more costly to repair).
Here's what you can do:
Crack Filling: filling cracks in your asphalt will prevent water from seeping into your pavement and causing more harm. You can either apply cold crack fill, which could be done yourself, or you could apply hot crack fill, which would be best performed by a contractor.
Pothole Repair: like cracks, it's best to fill/repair a pothole to prevent water from causing harm to your pavement. Temporary patches can be purchased at hardware stores, though it's likely those products will give you temporary relief (a few months). Other do-it-yourself products provide longer relief (around a year), such as Instant Road Repair, which is sold through our parent company, GP Roadway Solutions. A contractor can also repair the base course through infrared pothole repair.
Sealcoating: provided your asphalt is still in good condition and surface blemishes are taken care of, your best option to delay repaving costs is to sealcoat your asphalt. Sealing your asphalt protects it from oxidation and water penetration, thus extending its useful life. Also, on average, sealcoating is 1/10th the cost of repaving.
Sealcoating also gives you the opportunity to re-stripe parking lot lines and install new pavement markings to make your parking lot look brand new.
In order to delay repaving costs, you need to keep your asphalt in good condition. And the only way to do so is to continuously perform maintenance on it; fill cracks when they appear and sealcoat every three to five years. A maintenance program will go a long way in extending the useful life of your asphalt and delaying the need to repave.
Contact GP Maintenance Solutions for a free site visit. Our estimator will walk your parking lot with you and help you determine the scope of work that needs to be performed.