Seal Coating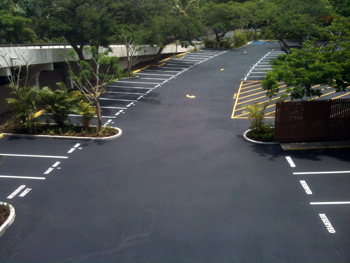 G P Maintenance Solutions offers the best Seal Coating service in Hawaii
Seal Coating protects your asphalt and extends its useful life. It is applied on top of your pavement in a liquid form and protects your asphalt from water penetration, oils, and UV damage. Seal Coating is not a fix for damaged asphalt that is crumbling and has potholes in it. Rather, it will prolong the life of your asphalt surfaces to push out the inevitable repaving costs. Seal Coating will also fill minor surface voids and "beautify" your asphalt by providing a nice, dark, charcoal black color to your pavement. We have sealcoated many parking lots, roads and driveways in Hawaii.
Click here to view photos of our work.
Seal Coating Parking Lots & Driveways
The sealcoat protectant is most often applied to parking lots and driveways. However, sealcoat sealants can be applied to roadways to help increase the roadway's longevity.
Why Us?
Stronger!
G P Maintenance Solutions uses a Seal Coating created by Carbonyte called Type-S Slurry. This is a higher grade of sealant polymer than our competitors use and is ideal for Hawaii asphalt since it is designed to penetrate deep into pavement substrates where it permanently weather seals the asphalt. Type-S Slurry has been modified specifically for Hawaii's roads to raise the temperature of its softening point and increase the strength of the asphalt. Because of the unique formula created specifically for Hawaii's climate that gets hot sun year-round, it lasts longer and is stronger than the average Seal Coating used by our competitors. The unique polymer adhesion properties of Type-S Slurry seal coating have proven to outlast other sealcoat formulas. For this reason, our leading competitor had to double the thickness of their coatings to come closer to, but still not equal with, the longer life span of our product.
Faster!
The unique polymer design of Carbonyte's Type-S Slurry allows it to dry faster to hold up to immediate rainfall. Curing for this Seal Coating can be as fast as 20 minutes! Most projects are coated in ½ a day and then striped, resulting in being able to use the parking lot or driveway the next day. Usually, the projects that G P Maintenance Solutions takes on, require ½ the time that our competitors need to complete a job. We will also do smaller sections of your parking lot so you can keep the lot open for use. This allows you to continue doing business while we work on your lot.
Green & Eco-Safe
Type-S Slurry has no Polycyclic Aromatic Hydrocarbons (PAH) & Near Zero VOC: Odorless and cured container residue is safe for municipal landfill. It is safe to handle and store by our technicians when working with the Seal Coating product. Water soluble for easy clean up with water.
The Asphalt Institute, National Asphalt Pavement Association (NAPA), Hawaii Asphalt Paving Industry (HAPI), Association of Asphalt Paving Technologists (AAPT), as well as most paving organizations recommends coating of your asphalt with a sealant every 2-5 year, depending on weather and traffic. Seal Coating is part of a comprehensive asphalt maintenance program that has been recommended by all asphalt professional trade associations. Companies and municipalities have a regular maintenance schedule in place for over 40 years on the mainland. Hawaii has recently instituted a maintenance program for asphalt roads. That maintenance schedule includes pothole patching, patching cracks, cleaning and applying a sealant to coat the asphalt.
Services
G P Maintenance Solutions provides Seal Coating services on Oahu, as well as neighbor island projects. We can handle your complete parking lot makeover. Not only do we protect the asphalt with a Seal Coating (seal coating) but we can install parking stops (plastic, rubber or cement), speed bumps, ADA compliant warning pads, lane markers, pothole repairs, stop and parking signage, and striping & marking. We are your best parking lot maintenance company for your organization. With specialized equipment, a large pool of professional technicians ready to work on your project, we are able to complete the job on your schedule, quickly.
Contact us to schedule a free site visit, and we'll walk your property and provide recommendations for your pavement.
We also provide other pavement repair and maintenance service such as: