Asphalt Repair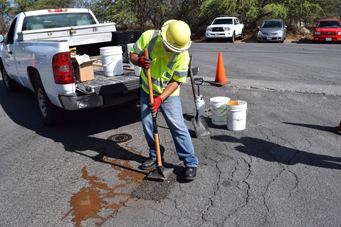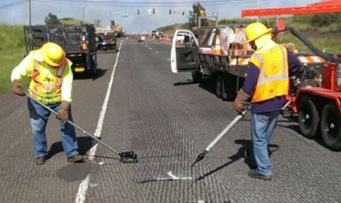 We take a comprehensive approach to asphalt repair.Trained technicians will do a thorough site inspection to access the state of your parking lot or road. We will review with you and point out any repairs to your asphalt that needs to be done and create a plan to address the causes. Asphalt degradation usually starts off with cracks in the asphalt and if left unchecked, progress to larger alligator cracks. With moisture being allowed to seep into the cracks they will soon develop into potholes. Since we are a locally owned company, we know the issues you experience only in Hawaii and can adjust our procedures and sealcoating formula to the tropical climate of Hawaii.
We use professional grade crack sealing material to both fill and seal the cracks that is specifically made for Hawaii's tropical climate. The sealing compound holds tight with sun all year round and is flexible enough to expand and contract with the asphalt. The trained application technicians at G P Maintenance Solutions will hunt out all the fissures in the asphalt pavement so that they can be sealed with the established industry leading process approved by the manufacturer.
For pavement damage that has resulted in loss of aggregate and forms a pothole, we will need to fill the hole with material to retain the surface. For smaller holes we utilize Bond-X. A greener asphalt product from Seaboard Asphalt Products that emits no VOCs and will permanently fill holes and harden to maintain the shape. For large areas we will utilize poured asphalt from our Grace Pacific asphalt plant. For damaged areas we can utilize an Infrared asphalt repair machine that will heat up the damaged area so we can dig it out and replace it with new asphalt.
After the asphalt has been repaired and your pavement is able to repel water again, we will move onto the next phase of asphalt repair. Your parking lot will be swept of debris and rubbish in preparation for sealcoating. The sealcoating will once again, lock in the asphalt and make it weather proof and extend the life of your asphalt. We can then apply the striping and lines to mark parking and lanes for traffic.