Tile Surface Sealer
Make Cleaning Your Tile & Grout Easy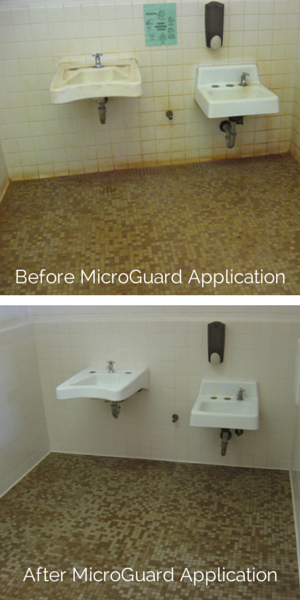 MicroGuard's Tile Surface Sealer allows you to clean your surfaces using water, a diluted disinfectant, and a mop. Porous grout lines will be effectively sealed so that dirt and stains will not penetrate. The protective coating also has hydrophobic properties and naturally repels water and debris. Other treatments used on floors, such as wax, get debris and other particulates embedded in the surface, making the surface difficult to clean.
No Need to Strip and Wax Floors
MicroGuard's Tile Surface Sealer replaces the task of stripping and waxing. In most cases, you should strip and wax your floors twice a year. If your floor is coated with MicroGuard, depending on foot traffic and your maintenance practices, you wouldn't need to seal your floor for 3-5 years. You'll also eliminate the costs associated with the labor, material, and time of stripping and waxing. Read our blog article, Why You Should Protect Tile & Grout With A Sealer Instead of Wax
Foot Traction
This Tile Surface Sealer will not reduce foot traction.
Longevity
MicroGuard's Tile Surface Sealer is an inorganic, cross-link cured, glass-like, siloxane clear coating that withstands the damaging effects of chemical abuse, abrasion and ablation, intense heat, ultra-violet light exposures and corrosive degradation. No other coating system can claim the unique product features and benefits of MicroGuard® Protective Coatings. MicroGuard® treated surfaces are resistant to most natural or industrial corrosives; including salt spray, ultra-violet, solvents, organic and inorganic acids and alkalis. MicroGuard® clear coatings use both atom-to-atom covalent bonding and London Force bonding methods to securely adhere to non-ferrous metals, concrete, hard tile, and decorative stone surfaces, to name just a few. Floor and/or Tile Coatings: MicroGuard AD708 hard Tile Clear Gloss Treatment MicroGuard AD703 Concrete Clear Gloss Treatment