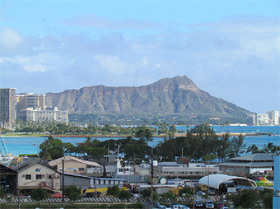 The University of Hawaii Cancer Center opened a new building at the John A. Burns School of Medicine in February 2013. The building has five floors totaling 21,000 square feet of light colored porcelain tile on their walkways and common areas. Management needed a cost-effective solution to keep maintenance of the porcelain tile simple so more time could be devoted to the exterior upkeep.
Challenges: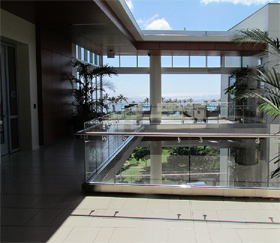 Located in Kakaako, the building has an open-air design and is about 100 yards from the ocean—leaving the porcelain tiles exposed to salt air and UV rays.
Prolonged exposure to salt air would leave a buildup of salt residue which would dirty the tile and require more work to clean. Sun exposure would unevenly change the tile's color. Being a new building, management wanted to maintain the color of the tiles while keeping maintenance to a minimum.
With only two workers to maintain the interior and exterior of the Cancer Center, reducing maintenance on the tiles was important to the overall maintenance strategy.
How GP Maintenance Solutions Helped:
Around 2008-2009, GP Maintenance Solutions provided a demo for management at the previous Cancer Center location.
Half of the demo area was thoroughly cleaned, while the other half was left as is to be the control area. Half of the cleaned area (or a quarter of the demo area) was coated with MicroGuard. Management could then compare the upkeep and aesthetics of the coated area versus the uncoated-clean area and untouched area.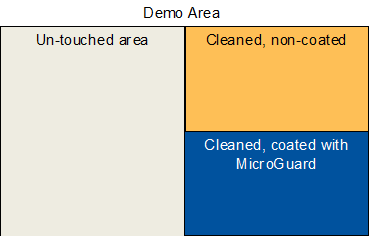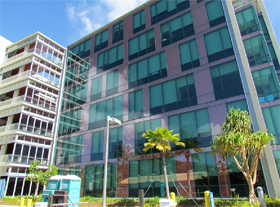 Over the next four to five years management saw firsthand just how easy the MicroGuard coated area was to clean versus the non-coated areas. It worked out so well that management decided to only use MicroGuard to coat their porcelain tiles.
With all five floors coated with MicroGuard, upkeep has been relatively simple for the Cancer Center's two maintenance workers. All they need to do to maintain the tile is to properly mop or squeegee the walkways on a daily basis, leaving more time to focus on the beautiful exterior of the Cancer Center.
Image credit: University of Hawaii Cancer Center
FREE Facility Maintenace Survey
Use this survey to review and evaluate your facility maintenance strategy. Find areas for improvement to bolster your maintenance plan.