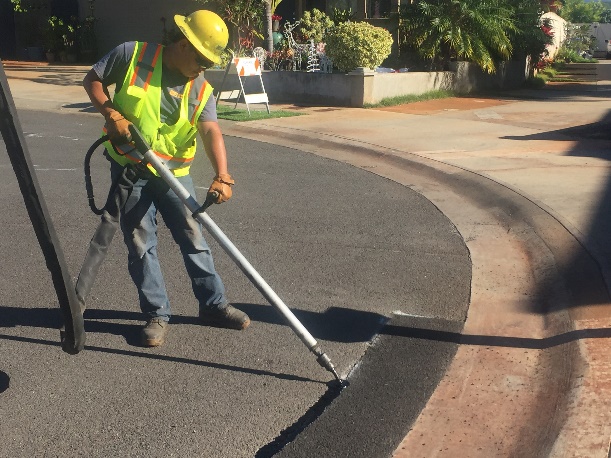 These five factors are of utmost importance and should to be considered with regards to asphalt sealant selection:
Project Specifications
Sealant Qualities
Climate After Installation
Pavement Conditions
Installation Process
Each component will help to determine the best sealant for your needs. Be sure to work closely with your asphalt sealant provider to address each of these considerations with your sealant selection.
Applying Specs, Sealant Properties to Selection
Project specifications are the number one factor influencing sealant selection. When the project specs are received, the climate and pavement condition should have already been considered by the agency, etc. ASTM specifications are the most frequently used in crack sealing projects. Once the ASTM standard is chosen, a sealer should also meet these general specifications:
Approvals/Acceptance – Certain sealant materials are approved by the individual agencies or states. There may be more suitable sealants for the project, however these may not be used until they have been accepted by the agency or state.
Availability/Lead Times – The material's manufacturing and shipping timelines (or delays), may influence sealant selection. This would be relevant in relation to project deadlines or timelines.
Product Cost – At times a variety of sealants may meet the specification with a range of price difference. The project budget will influence which sealant is selected based upon cost
Project Goals/Expectations – Is it a short-term solution? (i.e., hold a project together for the winter). Or long-term solution (max life expected from the sealant since it may not ever have the benefit of an overlay).
Sealant Qualities to Consider
Materials used as asphalt crack sealants are subjected to a variety of stresses and other effects including horizontal expansion and contraction of the pavement as temperatures change from summer to winter, vertical movements as traffic passes, exposure to water from rain and snow, aging from environmental effects, and abrasion from traffic and highway maintenance operations.
Therefore, the sealant you choose should have these qualities:
Adhesion: the ability to adhere and remain adhered to the pavement throughout the range of temperatures, movements, traffic, and other effects encountered.
High Temperature Stability: the ability to remain in place and resist flow, tracking or pick-up by vehicle tires at hot summer temperatures.
Low Temperature Flexibility/Elongation: the ability to stretch or extend at low temperatures experienced without cracking or de-bonding.
Elasticity: the ability to restrict entrance of incompressible materials into the crack.
Viscosity/Application Consistency: the ability to be effectively and easily applied to the crack through the application equipment.
Aging Resistance: the ability to resist degradation from long-term in-service weathering.
Curing: the ability to set up and reach final in-place properties quickly to permit opening of the pavement to traffic
Pot Life: the ability to maintain physical properties during the time it takes for installation.
Compatibility with Asphalt Concrete: the ability to not form an oily exudate and remain adhered when in contact with asphalt concrete.
Most important, make sure you have an adept contractor to apply sealant with the right equipment who can provide support in the field. Smart planning along with these tips will ensure simple, effective crack sealing and great pavement performance for years to come. If you have questions or would like a site visit, please call G P Maintenance Solutions.